ANDY RIDDELL
The ginger bald one.  Andy comes to BTU with a wealth of event management experience.  He's dropped cars from cranes in Moscow for Top Gear, he's run festivals and PR stunts and even a venue at the London Olympics.
As our Technical Director, Andy is the geek who draws together all the technological clout required to ensure we don't lose contact with our team, our runners or our office in the UK, no matter where we are in the world.  His spreadsheets, thought-clouds and flow-charts form the foundation of our race logistics.
Andy can most commonly be found behind the wheel of a 4×4 with an array of radios, GPS trackers, laptops, tablets and sat phones.  Also, if you're looking for wifi you should search for Andy.  He'll be on high ground somewhere using a router fashioned from rocks and moss.
Andy's top tip: 'taking time to preen your hair is inefficient.  Instead, go bald and use the time to listen to TED Talks'
WILL ROBERTS
The seriously bald one.  A former bungee jumping instructor, event manager and qualified journalist, Will is the resident media guy for BTU and as such the keeper of the media archives, the producer of podcasts, the bloggist, graphic designer and social media manager.
A former scout, Will's obsessive grasp of kit-admin came to full strength when he ran the Ice Ultra in 2017.  He's now the member of the team most likely to still have spare socks, two sporks and an excess of insect repellent by the end of an expedition whilst everyone else has foot-rot, a blotchy complexion and is eating their dinner with folded up flight confirmations.
Will is an ultra-running fanboy, fascinated by the adventure, hardship and triumph over adversity found on BTU's races.  If it means he can get our stories out to the world at large, he will put his life on the line for a sniff of mobile data.  He can often be found burning in the sun or shivering in the snow, following his phone around like some form of 21st century divining rod hoping to secure a source of 4G.
Will's top tip: 'Always take time to dance in the rain. Just make sure the situation has been risk-assessed first and you've packed spare clothes'
SHANE BENZIE
Shane has scoured the earth in the pursuit of the perfect running form.  Like some kind of 21st century Indiana Jones, Shane hops from country to country seeking out the ancient lore of the world's most naturally gifted runners.
instead of a whip and a pistol he carries an iPad and a set of high-tech sensors designed to monitor every aspect of an athlete's running.  As a result, he has been able to improve the performances of some of the ultra-running world's elites and even recently found himself assisting the Team GB divers.
Working with BTU affords Shane the opportunity to study the effects of extreme environments on his test subjects.  He rejoices at the sight of knee-deep jungle mud, vast frozen lakes and shifting desert sands, rubbing his hands in anticipation of the resultant cadence data he'll be able to peruse long into the night.
Shane is also an experienced Race Director in his own right and is an invaluable support to our team in the field.  He's most commonly found at our Base Camps keeping an eye on the runners and implausibly still drinking good coffee right up to the last day of a race.   We don't want to know where he hides it.
Shane's top tip: 'Run upright. Run tall. Hide your coffee supply well.'
MIKKEL BEISNER
Denmark's most popular export since Peter Schmeichel, Mikkel Beisner is a much-loved mainstay of BTU's races.  If you've ever marveled at a picture on our social media or swooned over a sunset on our website, then you are already familiar with his work.
Mikkel is a former physio and currently balances his expert-level adventure photography with firefighting and caring for his young family.  So, he's a genuine hero as well as an artist.
Mikkel has been to all our races multiple times.  No matter which race he's covering Mikkel knows how to get around, which tree to hide behind for the best action shots and which rock to climb to bag the best sunsets.  Always happy to march for miles to find the best backdrops for his photos, if you're in the thick of the rain-forest, miles from anywhere, and notice a rustle in the undergrowth the chances are Mikkel is nestled in there waiting for you.
That's not as creepy as it sounds.
Also, it could be a wild boar or something so probably don't hang around.
Mikkel's top tip: 'Never tell a group of ultra-runners you're a qualified physio'
RYAN LOVEJOY
Despite being named after a popular 80s British TV show and only being in his mid-20s, Ryan is an extremely successful videographer.  Seriously.  It's infuriating.  He's the youngest member of Team BTU and he's one of those people who is not only mega-successful and talented at what he does, he's also really friendly and likeable as well.  Don't you just hate that.
Ryan comes to BTU with a wealth of experience having shot seriously hair-raising roof-top parkour in south-east Asia, adventure racing in the Faroe Islands and more OCR events than you could shake a rope swing at.  Of course, the pinnacle of his career has been joining our team and following the BTU race series around the globe.  Ryan is currently in the process of producing a documentary based on the 2018 Ice Ultra and prepping his kit to survive in the Namib Desert dust on the #DesertUltra.
Our runners will have seen him popping-up from behind trees in the midst of the jungle, strafing them with a drone in the Namib Desert or hanging out the side of a helicopter over the Kenyan Savannah.
Ryan's Top Tip:  'It's really cold in the arctic so always keep your batteries in your pants.'
N.B. Never shake Ryan's hand in the arctic.
KRIS KING
Our Race Director.  The sadistic mastermind behind this amazing but immensely challenging series of races.  Kris is a seasoned ultra-runner and elite fitness coach with a penchant for taking things to the extreme, as such he's completed some seriously arduous personal challenges over the years.
Kris has a knack for getting people to do things beyond what they ever thought they were capable of.  As a coach he has a history of getting the best out of runners, as an RD he has a habit of getting large groups of runners safely over finish lines in totally inhospitable environments.  He even managed to pry our media guy, Will off his sofa long enough for him to complete the Ice Ultra.
Kris is hugely passionate about BTU and leads from the front.  He's most often found tearing along jungle roads in a 4×4 or flying over ice lakes on a snowmobile, keeping all the various parts of our ultra-running machine in motion.  If someone would get him a jetpack he'd never take it off.
Always putting the runners before himself, he's the member of our team most likely to have given away his only spork by stage two of a race.  But somehow he'll always know where his hair products are.
Kris' Top Tips: 'Save on pack space by bringing less clothes. You can't eat socks and we all smell bad anyway.'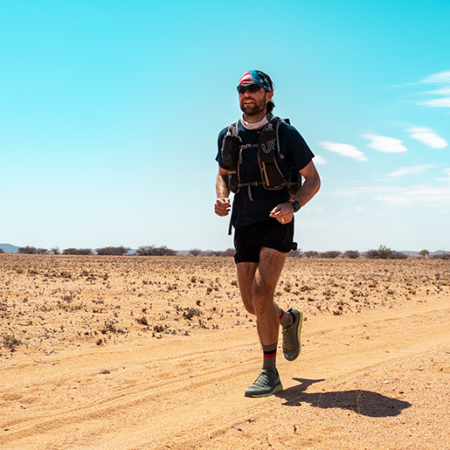 ADAM KIMBLE
Our NEW Race Director.
Adam is an ultra-runner, motivational speaker and is generally considered by those who know him, to be a serious contender for the nicest person they've ever met.
Adam came to running relatively late but has thrived in running shoes.  His performance at Desert Ultra 2018 confirmed what we already suspected.  That Adam is a cyborg designed for running by creatures of significantly higher intelligence than humanity.
When he isn't befriending people with his friendly nature and unflappable positivity, he is out achieving incredible feats of ultra-running prowess.  He now brings his considerable knowledge and experience to the BTU Team.
Adams Top-Tips: If you don't want me to beat your segment times on Strava, stop setting them.
P.S. – Ask about his Gollum impression.