Jungle Ultra Marathon
A 230km self-sufficient ultra marathon through the Amazon Rainforest
This is Manu National Park, Peru. Set deep in the rainforest, the impenetrable nature of this jungle is the reason it remains untouched making this one of the toughest races in the world.
As you journey from cloud forest to Amazon basin, you will fight your way through suffocating undergrowth, broken by river crossing after crossing.
This is our hardest ultra marathon. Choked with mud and humidity, the thin air doubles the effort required to move testing all of your physical and mental resilience. This is a race like no other.
This is the Jungle Ultra, follow us to adventure.
Location: Manu National Park, Peru
Distance: 230kms
Stages: 5 stages in 5 days 
Terrain: Jungle and Rain Forest
Red Jersey Stage: King/Queen of the Hill
Base Camp: Cloud Forest
Finish: Pilcopata
Daytime Temperature: 20°C – 30°C
Evening Temperature: 5°C – 20°C
Daylight Hours: 12
Airport: Cusco
Event Duration: 8 days
Accommodation: Hammocks
Places Available: 60
Get your Race Information Pack
Find out everything you need to know about the Jungle Ultra by downloading our free race information pack. It includes the travel itinerary, kit list, race rules and a daily breakdown of each race stage.
Watch the Jungle Ultra Experience
Discover what it's like to take on the Jungle Ultra through the Amazon.
What's next?
Interested to take part in the Beyond The Ultimate – Jungle Ultra? Schedule a call with one of our Race Directors, explore race footage and runner testimonials on our YouTube channel or check out the competition on the race roster.
Speak to a Race Director
View our YouTube channel
View the Race Roster
Testimonials
Mael Jefferson
You'll witness beautiful landscapes and meet some amazing local people. An incredible human experience I want to come and experience again.
Jungle Ultra Finisher 2019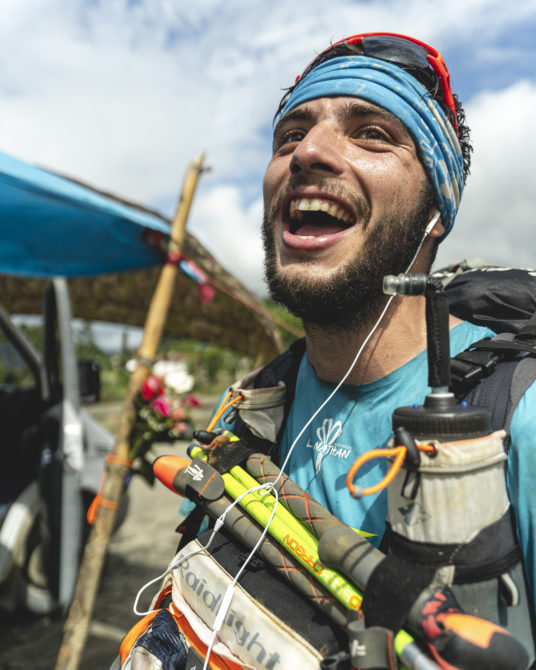 Testimonials
Carolin Botterill
The race is spectacularly well run. The course is tricky, challenging and fun all at the same time. The camaraderie is amazing.
Jungle Ultra Finisher x 5
Testimonials
Ben North
You go through high places and low places but you just have to keep on going. Being in the jungle is amazing, it's like nowhere else on earth.
Jungle Ultra Finisher 2019
Testimonials
James Fullerton
The course is unpredictable and relentless. It's an opportunity to test yourself, a chance to push your body and mind in a beautiful place.
Jungle Ultra Finisher 2019
The Jungle Ultra gives you the opportunity to compete in one of the most remote and challenging areas where few tourists ever get the opportunity to go. Your entry fee covers the teams, logistics and park fees to bring this race to life:
GPS tracking ensuring your safety.
Manned check-points and camps with medical and support staff.
Provision of drinking water on the course and hot water for preparing food at all camps.
Transfers to and from the race.
Storage and carriage of luggage during the race.
Digital watermarked copies of all photos captured by our professional adventure photographer.
Race coverage for friends and family back home.
Race T-Shirt and Finishers Medal.
Donation to our woodland project to offset carbon from flights.
Celebratory meal and finish line celebrations.
National Park fees.
What's not included in your entry fee are your flights, additional hotel stays, equipment and clothing (please see kit list) and food and drink during the race (other than water provided at checkpoints and camps).
Each runner is responsible for carrying all items listed on the mandatory kit list (which can be found in the Race Pack) throughout the event. That means all your clothes, medical supplies, food and sleeping kit will be on your back. This doesn't mean you're on your own, though. There'll be a constant supply of clean drinking water, and boiling water for the preparation of freeze-dried meals, at every camp, as well as drinking water at each checkpoint. Checkpoints are placed approximately every 10km, and there you will find a small shelter, a qualified medic and another supply of clean drinking water.
At BTU, we're determined to be as open as possible in our entrance criteria. We believe everyone should have a chance to take on one of these life-changing challenges. That said, a significant level of physical fitness is needed to take on races like ours in relative safety. Therefore, we ask that anyone entering one of our races has, at least, finished a marathon-length event within 12 months of their chosen race.
We would always recommend every competitor purchases appropriate insurance to cover the costs of your entry fee and your participation in any BTU event should you not be able to take part. Once a staged payment has been made it is non-refundable. Please read our terms and conditions before making your payment.
You can secure your place by paying £3,000 in full when you enter or spread the cost over four equal instalments. Payments can be made online via your debit or credit card.
£750 – deposit due on entry
£750 – 1st payment due 270 days before race start
£750 – 2nd payment due 180 days before race start
£750 – Final payment due 90 days before race start
Payment schedule
To secure your place in the race, you will need to make a deposit payment of £750 on entry. The remaining fee can be split over three further payments. Alternatively, you can pay in full when you enter.
You can use your debit or credit card to make your payment online. Stripe Payments handles the steps between you providing your card information and learning that the payment has been accepted. Some of the world's largest companies, including Amazon and Shopify use Stripe.
Deposit
Pay a £750 deposit on entry to secure your place.
270 days before race
Payment of £750 is now due.
180 days before race
Payment of £750 is now due.
90 days before race
Final payment of £625 is now due.